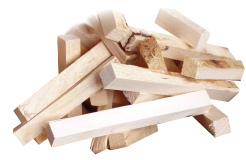 Recently, fuel wood has been included to our range. It is a waste material which is generated during the manufacture of handles.
Supplied either on pallets or in containers: The blocks are packed into net sacks, 20 sacks on each pallet. The container includes about 10 cubic meters of loose wood waste (beech, ash), see photo. Weight about 5 tonnes. Wood humidity is from about 20– 45 %. The wood is not dried, but, due to the small profile of the pieces of wood, after about 2 months of good weather or dry storage it is usable for problem-free heating. The size of the container is 3.6 x 1.8 × 1.5 m.
Transport: the transport of the container is provided. For further information please contact us by telephone: 724 205 083 and 569 444 202, 569 444 202 or directly at our premises Hamerník Ltd., Jitkov 86, 583 01 Chotěboř.