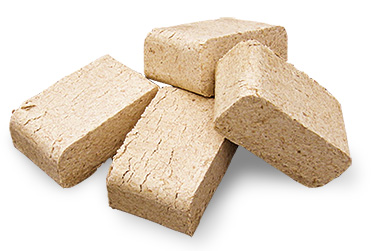 Our wooden briquettes are made out of a mixture of tree species used in the manufacture of handles (beech, ash, spruce, larch, pine), solely from our operation, with no chemical binders. It is ideal ecological fuel for all kinds of heating chambers (fireplaces, fireplace and tiled stoves, boilers for wood, coal or wood gas). By optimal drying of the wood to 6 – 8% moisture content, a higher heating value is achieved than with regular firewood. Due to the intensive pressing of the sawdust using hydraulic pressure (250 bar – 250 kg/1 cm2) the finished briquettes are guaranteed to burn longer than lignite (brown coal). We pack the briquettes in practical recyclable PE packaging of 10 kg. In this way the briquettes are protected against the damp and are guaranteed for easy handling, dust-free and clean operation during heating. The pallet is wrapped with shrink film.
1 PALLET = 1 tonne, i. e. 100 packs – 1 pack = 10 kg 
or
1 PALLET = 972 kg, i. e. 54 packs – 1 pack = 18 kg

Technical specifications
| | |
| --- | --- |
| Briquette size: | 150x65x100mm |
| Heating value: | 18–20 MJ/Kg (by 40 % higher than lignite) |
| Time of burning: | 120 - 240 min. |
| Residual ash: | up to 1 % |


The correct way of using the briquettes for maximum heat efficiency:

Chop the first 2–4 briquettes into cubes, add liquid or solid firelighters and light it (no need for any kindling wood).
Let the chopped pieces evenly flare with a full supply of air, to the desired temperature of the heating chamber.
Spread the molten pieces evenly throughout the heating chamber.
Depending on the size of the heating chamber, load  5–15  wooden briquettes into the hot base
Completely close the air intake for 5–20 minutes after the briquettes begin to flame.
The briquettes glow for several hours and give off the necessary heat.

SHIPPING

We have a lorry with a capacity of 6 tonnes to transport briquettes to your location. For easy unload, the vehicle is equipped with a hydraulic tail board. For further information please contact us by telephone: 724 205 083 and 569 444 202 or directly at our premises Hamerník Ltd., Jitkov 86, 583 01 Chotěboř.